New Delhi: 'Monica O My Darling' strives to provide goosebumps and chills, and it mostly succeeds. The film is a thrilling adventure full of unexpected plot twists and witty language that will keep you hooked throughout. 
Yogesh Chandekar's 'Monica, O My Darling' is based on Keigo Higashino's Burutasu no Shinzou, a Japanese mystery book about the human workers of a robotics firm. The script by Yogesh Chandekar is well-suited to the story. The writer manages to maintain the tone upbeat and humorous despite the abundance of blood and death throughout the narrative. 
Vasan Bala's direction deserves appreciation too. This is Vasan Bala's first feature film since 2018's critically acclaimed 'Mard Ko Dard Nahi Hota,' and it's a smashing comeback. Vasan's extra touches make for an entertaining viewing experience. For a film with so many protagonists, antagonists, plot points, and subplots, Vasan manages to keep the audience from becoming lost at any point. 
The title song "Monica, O My Darling" is a famous musical piece first performed by Helen in Nasir Hussain's 1971 film 'Caravan'. Throughout the movie, you will hear 'Piya Tu Ab To Aaja'.
The murder mystery features three of the most talented actors working today: Rajkummar Rao, Huma Qureshi and Radhika Apte. Although Rajkummar Rao's effort has received the most attention, the performances of Huma Qureshi and Radhika Apte are equally noteworthy. In a brief appearance, Sikandar Kher really steals the show, making one desire more screen time for him.
As the film starts, You won't find Rajkumar Rao, Huma Qureshi or any other lead cast in the first 3 minutes. But what you see is the same as in every crime film. Any guesses? Yes, a murder. After that, the film opens with a cabaret performance by the in-house dancer Monica at a business event where the new heir is to be introduced. 
Monica Macchado, played by Huma Qureshi, is the enthusiastic secretary at the robotics firm in Pune. As we quickly learn, she is also the go-to girl for numerous of the company's workers, including robotics prodigy Jayant (Rajkummar). 
Jayant is a graduate of the Indian Institute of Technology who got his big break during a geeky college party. His boss's daughter (played by Akansha Ranjan Kapoor) is engaged to him, and he's young, ambitious, and a bit of a toad. Akansha Ranjan Kapoor, as Jayant's starry-eyed fiancee Niki, is just one of several supporting cast members that shine.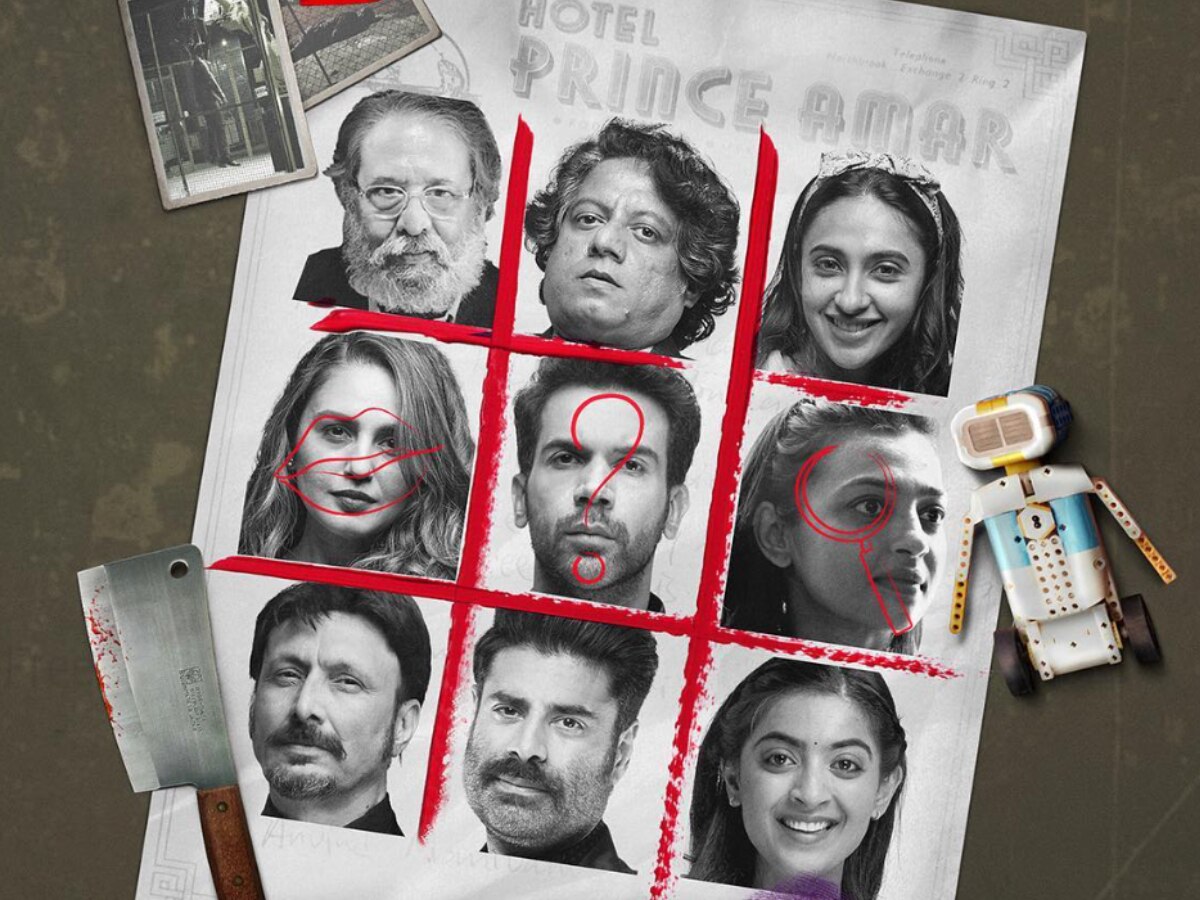 We soon learn of Jayant and Monica's rapid-fire affair, which culminates in a pregnancy for Monica. Nishikant (Sikandar Kher), Jayant, and accountant Arvind Swamy (Bagavathi Perumal) are all blackmailed by Monica at the same time and they agreed to kill her. The movie makes sense, has a clear path, and follows the arcs of its characters up to this point.
And then there's the case's assigned ACP Naidu played by Radhika Apte. Apte has so much fun playing the female equivalent of the stereotypically weird police officer that you can't help but wish she had more to do.
As ACP Naidu works to solve the murder mystery, Jay becomes her top suspect, and the precarious circumstances he finds himself in only serve to strengthen her suspicions. Overall, the cast is a great match for the parts they play.
The second half of the movie is riveting because of Apte's natural comedic timing and her growing hostility toward Rao's character. The film's second half, though, is noticeably less strong, which is a little letdown.
Despite Monica, O My Darling's best efforts, it plays the villain it sets out to avoid: that of the neo-noir that glorifies every sort of insanity. Retro stylings and tunes will have you wondering whether the picture is really set in the 1940s.
Underneath its surface-level humour, the film is fundamentally a parody. Overall, notwithstanding some dull parts and a few turns that we guess before the characters do, this movie is entertaining to watch because of its exciting opening and its shockingly slick conclusion.
Maintains suspense throughout and has a finale that may not satisfy the cinema fanatic in you, but the rest of the movie more than makes up for the climax. If you like crime dramas with a noir flavour, you'll probably enjoy this film as well. 'Monica, O My Darling' is currently available on Netflix.