New Delhi: Tabu, Kareena Kapoor Khan, and Kriti Sanon have ruled viewers' hearts, through their stunning performances and intriguing screen presence. The three are now set to appear on screen together for the first time in 'The Crew,' a comedy adventure. Ektaa R Kapoor and Rhea Kapoor, the super-hit production duo behind 'Veere Di Wedding,' reunite to bring audiences an exciting blend of drama and humour.
Kareena Kapoor's decision to collaborate with Kriti Sanon, Tabu, and Rhea Kapoor for this film has impressed her fans. She had announced this through a video from a photoshoot that they did for Vogue India. While many were taken aback by the new video's star power, a few had questions too.


The picture portrayed Kareena at the centre with Tabu and Kriti on either side of her. Netizens were surprised to find her the tallest out of the three while in reality, it is just the opposite. Some of them remarked on this on Reddit and Instagram saying, "Why does Kareena look taller than Kriti!?" while someone else wrote, "They made Kareena stand on something? No way she is taller than Kriti. Why do we need power play everywhere?"
The discussions flowed until there came an explanation, but maybe it was not satisfactory enough for netizens. One Redditor explained, "Look at the bottom of the video at the very end. She's standing on a platform. Pretty common in photoshoots for visual symmetry i.e. making a pyramid-like perspective."
Behind-the-scenes picture shared by Vogue, showed Kareena laughing with Tabu and Kriti while standing atop the platform. Famous Instagram account Diet Sabya also released the photo in order to avoid 'Bebo heightgate.'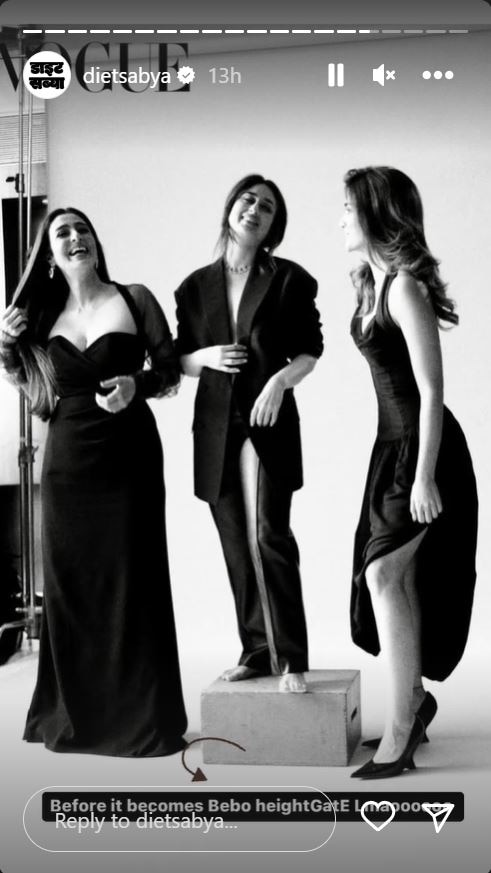 Respecting Tabu for her seniority and experience, a couple of netizens questioned why Tabu was not at the centre. "Seniority, career longevity and talent-wise, Tabu should be in the centre. thanks.", read a comment on Instagram, while someone else added, "Tabu >>>>> it's a shame they didn't have her in the centre"
Talking about the film, Kareena Kapoor said, "Veere Di Wedding holds a special place in my heart… working with Rhea and Ektaa was an incredible journey. So when Rhea came to me with her new project 'The Crew' I was quite intrigued. This also means I get to share screen space with two stellar actors, Tabu and Kriti. I am looking forward to starting this project and can't wait to bring this trifecta to the fold!" 
Adding to it, Tabu said, "I'm excited to be working on this film with two gorgeous and talented women Kareena and Kriti, and two more women of passion, Rhea and Ekta the producers and the director Rajesh Krishnan. With all the madness, joy, highs and lows of the characters, it's going to be a roller coaster and I'm looking forward to the ride." 
Kriti Sanon said, "I always look forward to strong characters and unique stories and 'The Crew' is one of them. I am very thrilled to work with two powerhouses of talent, Tabu ma'am and Kareena! I've always admired and looked up to them and their work. On the other hand, Rhea and Ektaa are just phenomenal, strong producers who have backed empowering and progressive female characters and subjects. I've always wanted to do a fun quirky all girls film and this one just ticked all the boxes and I instantly loved the script."  
'The Crew,' set against the backdrop of the faltering airline industry, will be an incredible laugh-riot. Three women work hard and hustle to succeed in life. However, their fate brings them into some unexpected situations, and they become entangled in a web of falsehoods. 'The Crew' is a hilarious comedy of errors and catastrophes and netizens have expressed their excitement for the release of this movie.
Directed by Rajesh Krishnan and co-produced by Balaji Motion Pictures Limited & Anil Kapoor Productions the film is all set to go on floors from February 2023.