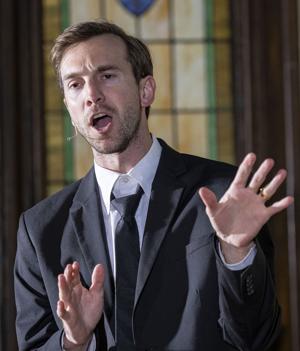 GOSHEN — The first of perhaps many theatrical presentations for Marilyn Mason's new theater company Theatre's Edge, "The Last Five Years" features a cast of just two actors for a unique performing arts experience.
"I hope there's an appetite for this kind of thing in Goshen," Mason said. "This is not large-scale community theater, but it could be community theater of a different kind."
A former choir teacher, it's been Mason's dream to put together an intimate operation like Theatre's Edge for most of her career.
"When I did my student teaching, the people I student taught with — in Salina, Kansas were producing a (musical) and they wanted me to do the choreography for it," she said. "The directing bug bit me. I had never been around that. Musical theater wasn't a thing at my high school. It wasn't a thing in my college really, and I just loved it."
For years, Mason taught music in Kansas, Illinois, and eventually Indiana, where she built a theater program for Manchester Jr.-Sr. High School. In 2016, while directing the dress rehearsal for "Les Miserables," she hit her head on a piece of the set. The resulting brain injury changed her personality and prevented her from teaching.
In February 2017, she found herself at the University of Pittsburgh's Medical Center where she was released by August. She was teaching music again at Goshen Middle School in January 2018. Last October, the brain injury symptoms returned. Her vestibular balance was gone. Overstimulation in a school setting, with the toll of the pandemic, caused her to transition to another part of the school world, but it's given her the opportunity to pursue another performance passion.
"When you do educational theater — for schools — you always have to be very cognizant of what kind of material you're doing," she said. "Often times you have to make requests to have certain things taken out of your contract or the script. … At this point in my life, I would like to just do some things with an edge, work on projects where I don't have to take anything out and work on some things that make people think. I think theater can really help us to see more of ourselves through these written words of people."
For its first performance, Theatre's Edge has produced "The Last Five Years," written by Jason Robert Brown. The musical tells the story of a relationship over a five-year period.
"It's very interesting because she starts at the end of the five years, and he starts at the beginning of the five years and they cross, and there's only one point in the show where they're actually together in the same time frame," Mason said.
It's a short musical, about 90 minutes long, but impactful, she said.
The musical is inspired by Brown's own failed marriage, and it's so similar that his ex-wife sued him because she felt the story violated non-disparagement and non-disclosure agreements within their divorce decree by representing their relationship too closely.
"It was probably really cathartic for him to write about that relationship," Mason said. "He doesn't come off looking so great in the show. I have all the costuming in black and white and a little in gray because sometimes I feel like these two see everything in black and white."
There is a series of scenes, however, where each of the characters boasts some red.
"Like there were so many red flags that this couple didn't see," Mason said.
The musical has been deemed acceptable for those 17 and older due to language and subject matter, Mason said. A 2014 cinematic adaption of the musical starring Anna Kendrick and Jeremy Jordan is rated PG-13 by the MPAA for sexual material, brief strong language and a drug image.
It's a two-person show featuring Katie O'Leary Miller and Derek Self, of Des Moines, Iowa.
The majority of rehearsal was conducted on an individual basis, with Miller or Self occasionally working together with Mason, or the trio on Zoom together, due to Self's location. In fact, Miller and Self only met in person Saturday.
"I was so anxious to see how their interpretations would change when they finally saw the reactions of the other person," Mason said. "They really aren't ever in the same time except for the wedding, when they're finally in the same moment. … But other times, they're still in the room, but they aren't really 'there.' It's really blossomed. … It's powerful and I'd hoped it would be."
A five-instrument ensemble rounds out the production group with a cello, violin, piano, bass and guitar.
The production is made through special arrangement with Music Theatre International, a licensing agency out of New York.
Each performance will offer just 75 seats for a completely different kind of theater experience.
"I've done shows with 75 kids and I love it," Mason said. "I love the energy. I love the happiness and the happy-clappy dancing and the show. This is not that. This is so intimate and unguarded."
The show will be at the Chouse, at 211 E. Washington St., Goshen. There are three show times: 7:30 p.m. Friday, 7:30 Saturday, and 2 p.m. Sunday. Tickets are $15 for adults and $10 for senior citizens and students.
Tickets are available at https://m.bpt.me/event/5566278