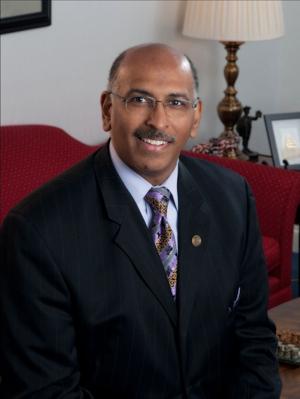 FORT WAYNE — National political commentator Michael Steele begins the 2022-23 Omnibus Speaker Series at Purdue University Fort Wayne at 7:30 p.m. Oct. 24 at Rhinehart Music Center's 1,500-seat Auer Performance Hall.
Tickets to "The Political Scene According to Steele" will be available for free this Friday on a first-come, first-served basis, with a limit of four per person. A $1.50 convenience charge is assessed per ticket for online orders.
To guarantee a seat, tickets should be reserved in advance through the university's online ticketing platform, or at the Schatzlein Box Office in the Rhinehart Music Center lobby. Box office hours are 1:30-5:30 p.m. on Tuesdays, Thursdays, and Fridays, and from 2:30-6:30 p.m. on Wednesdays. Tickets can also be ordered by phone at 260-481-6555 with a credit card during box office hours.
Reserved online tickets can be sent to patrons via text message or email. Digital options are helpful to avoid standing at the box office the night of the show. Tickets can also be picked up in person beginning one hour before the presentation.
The remaining Omnibus speakers for the upcoming season include Moogega "Moo" Cooper, engineer of the Mars rover Perseverance mission and planetary protection lead for NASA, on Nov. 14; Scott Dikkers, founder of the iconic comedy website "The Onion," on Feb. 16; and George Takei, actor, social justice activist and social media megapower, on April 25. The lectures start at 7:30 p.m. Ticket availability for those presentations will be announced at later dates.
Steele made history in 2003 when he became the first African American elected to state office in Maryland, and repeated the groundbreaking achievement in 2009 when he became chair of the Republican National Committee. He is currently senior adviser for the Lincoln Project, a bipartisan coalition in opposition to former President Donald Trump.
A longtime MSNBC political analyst, Steele is a Georgetown Law Center graduate, an Aspen Institute Rodel fellow in public leadership, a University of Chicago Institute of Politics fellow, and currently a senior fellow at Brown University's Institute for International and Public Affairs.