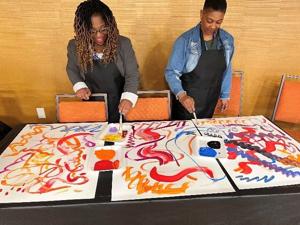 ELKHART — Ruthmere is hosting a Free Family Sunday from 1 – 4 p.m. Sunday. Tours will take place at no charge with the last tour beginning about 15 to 20 minutes before 4 p.m.
This month's Free Family Sunday will also feature a Pause and Paint workshop that attendees can participate in for a small fee.
Every Pause and Paint session begins with a short guided meditation, led by Nekeisha Alayna Alexis, a local poet and musician, who has deepened her meditation skills through more than a year's worth of personal practice. Dorothy Jean Carter, a local artist and session leader, then guides the group in a themed paint project that participants personalize with their own artistic spin. All skill levels are welcome for both adults and children. Pre-registration is not required to participate.
The first Sunday of each month April through November, either Ruthmere Museum or Havilah Beardsley House is open to the public for no admission charged between 1 – 4 p.m. Ruthmere is open in April, June, August and October. The Havilah Beardsley House is open May, July, September and November. When one site is open for a Free Family Sunday, the other site is closed. The Havilah Beardsley House will be closed on Sunday. Free Family Sundays are made possible through a grant from the Community Foundation of Elkhart County.