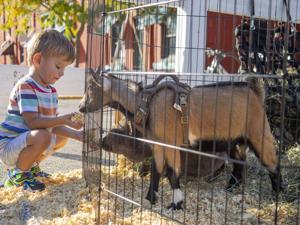 GOSHEN — Celebrate the return of cooler weather at this month's First Friday's evening in downtown Goshen.
The October theme is Harvest Festival and will include firepits, fashion, food and drink, furry friends, fall crafting, and more. The festival begins at 5 p.m.
I M SHE, Twisted Britches Boutique, Kozahz, Woldruff's Apparel, Jules Boutique, and Salon will join forces to host a Fall Fashion Show on the First Fridays stage featuring dozens of fall fashion looks from locally owned downtown businesses. The show begins at 6 p.m.
Los Ortega returns to the First Fridays stage for the Harvest Festival, following the Fall Fashion Show at 7 p.m.
Throughout the evening, people can enjoy a petting zoo on East Washington Street courtesy of Savage Riding, and a First Fridays beer tent nearby. There will also be free pumpkin decorating at the Goshen Theater sponsored by Interra Credit Union. Harvest Festival also falls at the start of Goshen College's homecoming weekend, offering additional special events at the Goshen Theater.
Again this month, Goshen Health is sponsoring a dedicated space for mothers and those caring for children. The tent, in the 100 block of East Washington Street, offers private areas for nursing mothers, changing tables, and complimentary diapers and wipes. A First Fridays attendant will staff the tent to provide additional support to families.
Several local restaurants will also be offering seasonal sales and flavors all evening long.
Common Spirits will sell hot mulled cider with choice spirit and smoked fall old-fashioneds, while Constant Spring will set Cinnamon Apple Blondies and Bourbon Apple Fizz cocktails, and Goshen Brewing Co. will sell canned hard apple cider.
Family snacks and dining locations will also be joining in the fall festivities. Jojo's Pretzels will sell beer cheese, hot cider, and hot chocolate, and Shirley's Popcorn will sell their popular Caramel-To-Die-For Popcorn. The South Side Soda Shop's menu will feature pumpkin pie, crunchy pumpkin, pecan pie, pumpkin whoopie pies and pumpkin cheesecake.
Venturi will be featuring a high proof old-fashioned pizza feature, with imported Italian tomato, Brussels sprouts, house-made mozzarella, garlic, pancetta, and red chili flakes.
Maple City Market will have a sale off 30% off winter squashes.
There will also be several food trucks downtown including Rulli's on Wheels, Weiner Shack & Grill Food Truck, Tropicana Ice Cream Shop, Golden Star Kettle Corn, and All Over Creations.
Activities will also take place at several businesses downtown throughout the First Fridays Harvest Festival.
They include:
• Cornerstone Christian Fellowship, 110 S. Fifth St., will have a chili cookoff from 5 to 7 p.m. or until they run out. People can join them for taste testing and cast a vote for best chili at no cost.
• Fables Books, 215 S. Main St., will host a Meet the Authors event. Meet Courtney Magnuson Gomez, author of "Fletcher's Big Adventures;" Shannan Martin, author of "Start with Hello;" and Judith L. Roth, author of "Cadence and Kittenfish." All three authors will be available to meet and sign copies of their books from 6 to 8 p.m.
• First United Methodist Church, 214 S. Fifth, will have a community youth choir concert. Under the direction of Sandy Hill, stop by to experience Goshen's own Shout For Joy! Youth Choir in the church's sanctuary and enjoy dessert in the garden room afterward.
• Goshen City Church of the Brethren, 203 N. Fifth St., will host the Evergreen Singers at 5:30 p.m.
The Evergreen Singers have been meeting weekly since 1985 and they sing secular, sacred, and Christmas music. Singers come from Greencroft Goshen as well as other areas of Elkhart County, and are open to people 50 and older. There will be chili and drinks served for visitors to enjoy while listening to the choir.
• Goshen Historical Society, 124 S. Main St., has a window display featuring the 100th anniversary of Kercher Orchard Markets. The museum will also have kids coloring pages, and the police booth at Main Street and Lincoln Avenue will be open.
• Goshen Theater, 216 S. Main St., will host Goshen College's Lavender Jazz in the Miller Auditorium. The band will play throughout the evening, starting around 6 p.m. People are invited to grab a snack and drink at the concession stand, or try a cocktail at the bar.
• Ignition Music, 120 E. Washington St., will host critically acclaimed indie recording artist and songwriter Fred Hostetler for a new edition of his 2017 sold-out show. The Goshen native and graduate of Goshen College has worked and performed with rock and blues legends. He now resides on Whidbey Island in the Pacific Northwest. People of all ages are welcome. Doors open at 7 p.m. and tickets are $15 for reserved seating or $10 for general standing.
• The Imagination Spot, 111 E. Washington St., will present a free kid's craft from 4:30 to 7:30 p.m. Kids can make their own Harvest Scarecrow.
• Ten Thousand Villages, 206 S. Main St., will celebrate Fair Trade Month with special sales including 15% off bags and scarves Oct. 1-7, 15% off kitchen Oct. 8-14, 15% off costume jewelry Oct. 15-21, 15% off plant and garden Oct. 22-31, and 25% off clearance all through the month of October.
• The Window, 223 S. Main St., will service chili — both vegan and beef — with cornbread, coffee, and water for their October dinner fundraiser. All proceeds go to The Window to assist in serving all people with limited income.